CareAdvantage Cal MediConnect Plan (Medicare-Medicaid Plan) 2022
Enroll in CareAdvantage 2022
A health care plan with all your Medicare and Medi-Cal benefits—plus more!
CareAdvantage brings all your Medicare and Medi-Cal benefits under one health care program. That makes it easier to understand and use your benefits. Plus you get extra benefits that Medicare and Medi-Cal don't provide.
To learn more and enroll
call a licensed CareAdvantage Medicare Specialist
650-616-1500 or 1-888-252-3153
TTY: 1-800-735-2929 or dial 7-1-1
Monday–Friday 9:00 a.m. to 6:00 p.m.


Unlimited taxi rides to approved health care appointments

Vision care, including annual eye exam and $100 towards eyewear every other year

A dedicated team of CareAdvantage Navigators who guide you through the health care system


A local health plan, with local office hours – so you can call or visit when it fits your schedule

A single card and phone number makes accessing all your benefits easy

24 hour Nurse Advice Line


Doctor visits
Medical & preventative services
Hospital care
ER visits / Urgent care
Mental health services
Physical & occupational therapy
Long-term nursing home care
Access to special programs like Community-Based Adult Services and home-health "house calls" (restrictions may apply)

Prescription drug coverage – low or no co-pays
Generic drugs $0, $1.35 or $3.95
Brand-name drugs $0, $4.00 or $9.85

Acupuncture and Chiropractor
Try CareAdvantage risk-free
If you don't like it, cancel any time. It costs nothing to join the plan, so trying it out is risk-free. But most CareAdvantage members really like the program, and are happy they joined. We think you will be, too.
You can join CareAdvantage if you:
Live in San Mateo County
Have Medicare Parts A & B and
Have full-scope Medi-Cal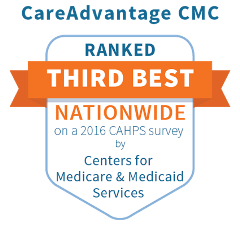 Ratings based on member feedback about the service received from their health plan and providers.
Get the facts about CareAdvantage
Our licensed CareAdvantage Medicare Specialists are ready to help Monday–Friday from 9:00 a.m. to 6:00 p.m.
Call 650-616-1500
Toll free: 1-888-252-3153
TTY: 1-800-735-2929 or dial 7-1-1
Our CareAdvantage Medicare Specialist team

Joe D'Aura
CareAdvantage Medicare Specialist
License #0C68684
Karen Sturdevant
CareAdvantage Medicare Specialist
License #0C28703
---
CareAdvantage Cal MediConnect Plan (Medicare-Medicaid Plan) is a health plan that contracts with both Medicare and Medi-Cal to provide benefits of both programs to enrollees. Limitations and restrictions may apply. For more information, call the CareAdvantage Unit or read the CareAdvantage 2022 Member Handbook.
Benefits and co-pays may change on January 1 of each year.
If you speak other languages other than English, language assistance services, free of charge, are available to you. Call 1-866-880-0606 (TTY: 1-800-735-2929 or dial 7-1-1). ( Download this statement in multiple languages.)
H7885_Web2022 Accepted
Page updated October 1, 2021