Tobacco Cessation Resources
Identifying tobacco users
Providers are required to identity and track all tobacco use (both initially and annually). Follow these screening requirements to identify and track HPSM tobacco users:
The California Department of Health Care Services (DHCS) and American Academy of Pediatrics recommend using these validated tools to screen all patients for smoking and tobacco use:

The Staying Healthy Assessment (SHA)
The Individual Health Assessment (IHA)
The CRAFFT+N Questionnaire (for ages 12 to 21)

If you identify a tobacco user, make sure to document Smoking or Tobacco Status on the patient's problem list on their electronic health record (EHR)
Use relevant ICD-10 codes related to nicotine dependence (such as F17.2XX, Z87.891)
Note: If you are eligible for HPSM's Benchmark Pay-for-Performance (P4P) program, you can help us identify tobacco users and track your performance in quality measure "TBC" through monthly eReports. Clinics assigned to the Medi-Cal Pediatrics track are eligible to get P4P payments for screening pediatric patients 12 and older for tobacco use using the tools listed above and providing counseling to those who use tobacco.

Treating patients who use tobacco
Treatment consists of providing medically necessary tobacco cessation services such as counseling, pharmacotherapy or both.
Medication treatment options include nicotine replacements such as:
Nicotine skin patches
Nicotine lozenges
Nicotine gum
Nicotine nasal spray
Nicotine inhalers
Medications to reduce cravings include:
Bupropion SR (Zyban)
Varenicline (Chantix)
Note: Providers must provide a prescription for all tobacco cessation products, including over the counter (OTC) products, in order for HPSM or Medi-Cal Rx to cover the cost. HPSM Medi-Cal members can get tobacco cessation products through their Medi-Cal RX pharmacy benefit. Other HPSM plans may place coverage limitations on certain tobacco cessation products. Get more information by searching HPSM's online Formulary.

Behavioral counseling
Providers are encouraged to:
Provide counseling sessions of at least ten minutes at every visit and/or refer patients to tobacco cessation services.
Use the following clinical practices to treat tobacco use and dependence in your clinical practice. Review guides for each of these practices to help you provide simple steps to intervene with patients who use tobacco:
Treatment for pregnant tobacco users
Pregnant tobacco users should be advised of the significant perinatal risks of using tobacco during and after pregnancy. Providers must:
Offer one-on-one counseling for pregnant patients exposed to tobacco
Help pregnant patients who actively use tobacco products obtain assistance with quitting throughout their pregnancies
Discuss available cessation-aid services and resources regularly at prenatal and postpartum follow-up visits and document each discussion
For more information, consult the U.S. Preventive Services Task Force's (USPSTF's) recommendations.
Addressing vaping
The use of e-cigarettes is just as unsafe as other tobacco products, especially for kids, teens and young adults. Most e-cigarettes contain nicotine that is highly addictive and can harm brain development.
The American Academy of Pediatrics recommends using the following clinical guidelines to address vaping:
For patients: special-edition quit tobacco newsletter!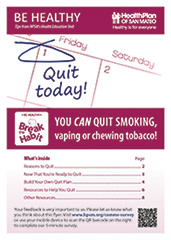 Our eight-page quit tobacco newsletter is designed to help those who smoke, vape or chew break the habit. It explains the benefits of quitting, the six steps to building a personalized quit plan and the resources that can help people quit. To get a print copy mailed to you, call the Health Education Unit at 650-616-2165.