Tobacco Cessation Information and Resources
Tobacco use remains the leading cause of preventable disease, disability and death in the United States. HPSM is here to support and partner with you in helping our members and your patients quit tobacco.
Social determinants of health play a significant part in tobacco-use related disparities. People living in poverty and adults with lower levels of education smoke cigarettes at a higher rate than the general population. There is often a higher density of tobacco retailers located in low-socioeconomic areas, low-income African American communities and communities with more LGBTQAI+ couples. All these communities experience higher rates of tobacco use and tobacco-related health disparities.
Every member of the healthcare team has a role to play in supporting and motivating patients to quit. Studies have shown that brief advice from a clinician about tobacco cessation yields a 66% increase in successful quit rates. Advising patients to quit is one of the most important steps providers can take to improve their patients' health. Below are additional recommendations, requirements, and resources for providing effective and comprehensive tobacco cessation services.
Special-edition quit tobacco newsletter!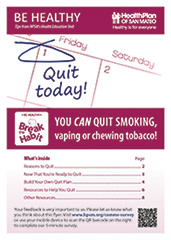 Our eight-page quit tobacco newsletter is designed to help those who smoke, vape or chew break the habit. It explains the benefits of quitting, the six steps to building a personalized quit plan and the resources that can help people quit. To get a print copy mailed to you, call the Health Education Unit at 650-616-2165.