Amy Scribner
Population Health Officer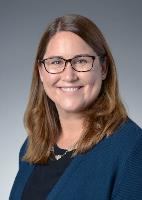 Amy Scribner joined HPSM in 2018 as our Director of Behavioral Health, and in 2021 became our first Population Health Officer. In this new role, Amy leads several integrated teams focused on improving the health of HPSM's diverse member populations.
Prior to joining HPSM, Amy worked as the Regional Director of Community Living Services at the Institute on Aging (IOA). In that role, she helped develop the Community Care Settings Program. This innovative partnership between HPSM, IOA and local housing agency Brilliant Corners helps our members transition from long-term care facilities back into their own homes.
Amy has also worked as IOA's Director of Psychological and Counseling Services, Clinical Operations/Regional Manager for a behavioral health care services organization and a practicing psychologist. She received her PhD in Clinical Psychology from Palo Alto University and her BA in Psychology from Loyola College in Maryland.

---