Colleen Murphey
Chief Operating Officer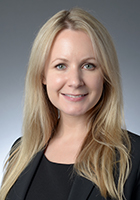 Colleen Murphey joined Health Plan of San Mateo in 2017 as the Director of Provider Services. She served as the Network and Strategy Officer starting in 2019 and became Chief Operating Officer in 2022. Colleen has been working in the health care sector since 2007 in strategic consulting and entrepreneurial roles.
Before joining HPSM, Colleen was a Director at the Health IT company Kyruus where she led account management and implementation management for the company's West Coast market. In this role she worked with large health systems to improve referral management and network directories. Prior to this, Colleen was a consultant for McKinsey & Company (2012 to 2015) serving healthcare clients on a variety of topics. She consulted for the Wharton Small Business Development Center from 2010-2012, helping early stage health care startups develop business plans and secure funding, and briefly dabbled in launching her own startup. From 2007-2010, Colleen worked as an Analyst and Senior Analyst for The Advisory Board Company in Washington DC with a focus on Health IT. Prior to her career in health care, Colleen worked in public education in Chicago.
Colleen has published and co-published papers in several forums including authoring a case study in India's Healthcare Industry - Innovation in Healthcare Delivery, Financing, and Manufacturing (Cambridge University Press, 2014). She received her bachelor's degree from The University of Chicago and her M.B.A. in Healthcare Management from The Wharton School of Business.
---